Cement supplier Schwenk Sverige AB has shifted its focus. By working in an object-oriented way, they have been able to move from remedial to preventive maintenance. The company doesn't have to rely on gut instinct any longer, because it now has an overview of all of its terminals' equipment.
Schwenk has automated and unmanned terminals in four locations in Sweden. Pre-approved truck drivers go there to load their vehicles with cement for delivery to customers. The drivers are trained to operate the equipment contained in the terminals. But it is important that the equipment works, whatever the circumstances.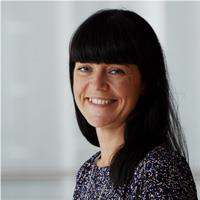 – We have always had a maintenance plan for our terminals, but since 2020 we have started to move more towards preventive maintenance instead of focusing on remedial maintenance. This involves measures such as replacing worn parts and checking equipment functions, as well as modernisation and improvements, says Ann-Louise Grahed, Logistics Manager at Schwenk Sweden.
Before 2020, Schwenk Sverige cooperated with several smaller maintenance providers in different locations. For the past two years, they have been working with a company which, according to Ann-Louise Grahed, has a better chance of meeting Schwenk's skills needs, and which can take a holistic approach based on a digital maintenance system.
Working together, they have mapped and assigned numbers to the mechanical and electronic parts in the terminals. The result was a data register that makes it easier to monitor specific objects.
– This traceability has been positive when discussing investments. Previously we had to guess and go by gut feeling, but now we know exactly which equipment is often the source of the problem. It helps us to focus on the right things, says Ann-Louise Grahed.
By working in an object-oriented way, Schwenk not only gains knowledge about which parts of the terminals need more work – but also which parts may be overworked.
– Nowadays we can also see where things never go wrong. In some cases, we may have made interventions too frequently in the past and can now use some of the resources in a smarter way, explains Ann-Louise Grahed.
The objective of the object-oriented approach is to reduce the overall costs of service and maintenance and to increase reliability. The terminal in Västerås, for example, is already showing good results.
– Hours lost through stoppages have been significantly reduced here. The terminal's ability to receive cargo and to trucks to pick up the cargo has improved, and there is very little downtime. My phone doesn't ring with calls from Västerås as often any more, says Ann-Louise Grahed.
---
Underhåll takes place on 31 May – 3 June 2022 at the Swedish Exhibition & Congress Centre in Gothenburg. Ann-Louise Grahehd will participate as one of the speakers on May 2. She will then tell us more about how Schwenk works with object-oriented maintenance. You can find more information about Underhåll, the Swedish Maintenance Fair and its programme here: www.underhall.se.