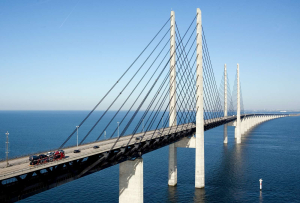 Öresund Bridge is working to increase the proportion of its data-driven decisions. This is an important piece of the puzzle in efforts to create a sustainable connection between Sweden and Denmark that will stay strong in the future.
The Öresund Bridge is a complex infrastructure with 16 kilometres of road and rail running both over a bridge and through a tunnel. All types of maintenance are carried out here – from inspecting fire alarm control panels to painting steel structures to protect against corrosion. The older the bridge gets, the more care it requires.
– The aim is that costs should not increase over time even if maintenance requirements do. It already costs a lot of money, and we don't know if future generations will be able to afford it. That's why we are working to be in a position to leave them a sustainable bridge, says Bengt Hergart, Director of Construction at Öresund Bridge.
Part of this work is to increase the volume of data-driven decisions. The goal is for 10,000 of the 35,000 inventory items in the maintenance system to be computerised within five years. In the past, maintenance activities have mainly been driven by the calendar, but now they want to move away from that.
– The idea is that more gadgets should talk to us and say, "I can now see a scenario that happened two weeks before I broke last time". We can then probably reduce the number of maintenance incidents overall and also cause less disruption to our customers, those who cross the bridge, says Bengt Hergart.
– During a pilot project on machine learning, we found out that some of the equipment's data was difficult for an algorithm to read, because the information was in free-text fields. We have spent a lot of time fixing this and replacing the text with classifications and error codes, says Bengt Hergart.
The plan is for connected equipment automatically to create a work order for maintenance when necessary. The trigger can be a certain temperature or pressure, for example. This is already under way for some equipment.
Another example where data serves as a basis for maintenance is the inspection of concrete. Most recently, this was done using drone images and an algorithm that made an initial assessment.
– We still have a long way to go, but we have taken important steps. My advice to others facing the same journey is to start simple. Think about how you can use data from equipment that is already connected. Then you can implement machine learning and algorithms. That's about where we are today, says Bengt Hergart.
---
Underhåll takes place on 31 May – 3 JUNE 2022 at the Swedish Exhibition & Congress Centre in Gothenburg. Bengt Hergart will participate as one of the speakers on June 2. He will then tell us more about Öresund Bridge's work to increase the proportion of data-driven maintenance. You can find more information about Underhåll, the Swedish Maintenance Fair and its programme here: www.underhall.se
Get your free admission ticket here »