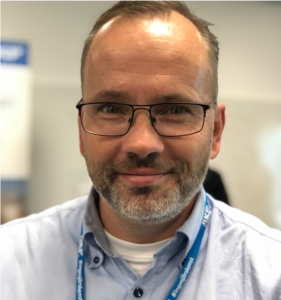 The think tank Sustainability Circle, which brings together the heavyweights of Swedish industry, is investing heavily in Underhåll 2022: Partly through the theatre programme, where member companies will highlight real case studies. And partly at a "Knowledge Coffee Bar", where visitors can get coffee and some good advice.
– Our guiding light is industrial sustainability, says Henric Widén, CEO.
The Sustainability Circle was formed in 2010 with the aim of highlighting maintenance as a resource in efforts to achieve industrial sustainability. Today it has about 50 members, including ABB, AstraZeneca, Ovako, SCA, SKF and Volvo Powertrain.
– But we gather players from a number of areas, everything from academia to power companies, transport companies and public authorities, says Henric Widén, CEO of Sustainability Circle.
He mentions Chalmers and Luleå University of Technology, E.ON, Fortum, OKG, Svenska Kraftnät, the Swedish Transport Administration and the Öresund Bridge, among others.
– What all our members have in common is the understanding that we can only achieve sustainable development if we use the resources we already have in a better way. It's about ensuring that production runs as it is supposed to, that it does not produce poor quality and there are no unnecessary emissions or waste.
The people who have the best insight into all this, Henric believes, are maintenance managers.
– We are talking here about experienced technicians, the really key players. A professional role where people stay for a long time and get to know what is important over time. This is essential if you want to deal with things that happen maybe every three or seven years.
Experiences from various maintenance initiatives and problem solving will be highlighted in the Sustainability Circle's sessions during Underhåll, the Swedish Maintenance Fair. Four member companies will talk about the digitalisation of their business, from different perspectives, presenting their own case studies each day:
Öresund Bridge will explain how data quality has increased with improved reporting.
OKG will address the digital strategy of nuclear power, with an emphasis on visualisation.
Ovako will explain how it managed to digitise an existing old ring-rolling mill.
Tenfifty will talk about an AI project for a subcontractor to the car industry.
In addition, the Sustainability Circle will hold a breakfast seminar on the first day of the fair, Tuesday 31 May. And they are inviting the food industry to a conference on the Swedish Exhibition & Congress Centre's premises the day before, May 30.
Alongside the main theatre, where the seminars take place, the think tank will host the Knowledge Café (Kunskapsbaren) during the fair.
– The theatre programme will not be running non-stop. During the breaks, you should be able to take a seat at the bar, have a cup of coffee and talk to us, Henric explains. We will have experts from our network on site. They cover a wide range of skills and I almost dare promise that we can answer all your questions and concerns, no matter what your ideas, problems or challenges are.
He suspects that many conversations will relate to the pandemic.
– Our impression is that most companies have done well, when all is said and done. But there are two recurring stories.
The first is that short-sightedness is paralysing the business.
– Short-term decision-making can easily take over when there is a long-term external threat. The whole agenda becomes focused on crisis resolution. But everything you previously solved in the corridor, now requires you to book a digital meeting, Henric explains.
The second issue is the lack of creativity when working remotely.
– It's not easy to be creative when you're sitting alone at the kitchen table.
He believes the fair can play an important role in solving both problems:
– If you take the time to go to Underhåll, I think it's obvious. You'll be setting aside a couple of days dedicated to long-term and strategic thinking. At the same time, you'll get to see all the new technology, hear all the new ideas, and get that much-needed interaction with exhibitors and colleagues that usually sparks creativity. That's why I think this year's fair can be very rewarding for many people.
---
Underhåll is Northern Europe's largest and fastest growing meeting place covering all aspects of industrial operations and maintenance. An industry-wide forum where technicians and decision makers right across the maintenance value chain can see the technology of the future and share experiences. The 2020 edition of Underhåll had to be cancelled due to the outbreak of the Corona pandemic in March. The event is therefore all the more long-awaited and we warmly invite you to Underhåll 2022, 31 May – 3 June, with a focus on among other things smart maintenance, sustainability and industrial safety. More info at underhall.se