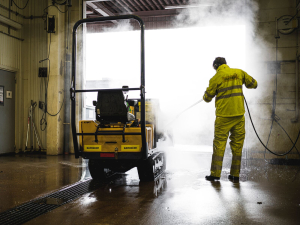 When Ramirent took a holistic approach to its chemical management, it became much easier to make risk assessments. Nowadays, the company has control over what it purchases and uses in the business.
Ramirent has around 70 workshops and cleaning facilities around Sweden, where its employees clean fleet equipment and machinery that has been rented out to customers. This is also where most of the chemicals handled within the company, mainly various types of cleaning agents, are found. Ramirent also uses products such as lubricants, fuels and adhesives for easier repairs.
– Since we are a dispersed organisation with facilities that have different needs, a large range of chemicals is required. But we discovered a few years ago that our doors were too wide open to suppliers, says Karin Ekberg, sustainability specialist at Ramirent.
In practice, a plant could purchase chemical products that had not been risk-assessed by the company's central function. Since Ramirent wants to substitute hazardous chemical products with less hazardous or non-hazardous ones when the opportunity exists, a change was needed.
– Together with our main supplier, we looked carefully at what we purchased for the business. Based on this, we decided on a fixed range. We simply got a better grasp on what we might have in the organisation and streamlined the business by reducing the selection, Karin Ekberg says.
If the range needs to be updated, she consults the chemicals group, which consists of representatives from the business, and conducts product reviews together with the supplier. These are important aspects of risk assessment.
This approach has advantages from social, environmental and economic sustainability points of view, according to Karin Ekberg. It is now easier to avoid health risks, and Ramirent does not buy or use more chemicals than necessary. However, it has not been entirely problem-free to go from a more open purchasing process to a regulated approach.
– In the beginning, I could get calls from employees who were upset because they were in the suppliers' stores to buy products they needed there and then, but which were no longer part of our range. These situations usually arose because we had not communicated well enough, states Karin Ekberg.
Now, three years later, the approach is well established. The next challenge is to bring in new parts of the organisation when Ramirent grows, most recently through the merger with Stavdal.
– When there are changes within the organisation, it becomes even more important to focus on product substitution. It is always possible to fine-tune the range of chemicals, Karin Ekberg concludes.
---
Underhåll takes place on 31 May – 3 June 2022 at the Swedish Exhibition & Congress Centre in Gothenburg. Karin Ekberg will participate as one of the speakers on Wednesday 1 June. She will then reveal more about how Ramirent got a better structure for its chemicals procurement. You can find more information about Underhåll, the Swedish Maintenance Fair and its programme here: www.underhall.se.