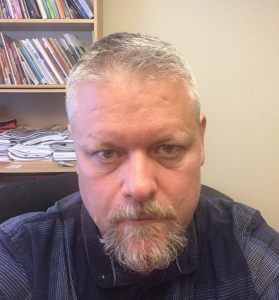 A major European study reveals that 57 per cent of workers, i.e. almost three in every five, suffer from stress-related injuries. The issue is rarely discussed, but at the Safety Officer Days in March 2022, the focus is on this far-reaching problem in the work environment.
– We must bring about a change, says Conny Lundberg of IF Metall.
The symptoms vary, from mild ailments to serious and chronic disabilities. What they have in common is that they can all be related to stresses and strains at work – and they are much more common than previously thought. This was documented in a broad-based study of workplace risks conducted by EU-Osha, the European Agency for Safety and Health at Work in Bilbao.
Employees in 45,420 companies and organizations in all EU countries as well as Iceland, Norway, the United Kingdom, Switzerland, Serbia and North Macedonia were included in the study. 57 per cent of them were found to have musculoskeletal disorders (MSDs). The most common symptoms are back pain and upper body pain.
– We have no reason to believe that the situation in Sweden would be better than in the rest of Europe. We know, for example, that MSDs are common in manufacturing industry, says Conny Lundberg,  safety ombudsman at IF Metall.
He states that the causes can vary:
– It can be physically strenuous, repetitive tasks. Or it can be work in cold, hot or noisy environments. Many ailments are associated with manually intensive work, which also puts strain on the arms, shoulders and neck.
IF Metall is, together with the Swedish Trade Union Confederation (LO), Dagens Arbete magazine and the Nordic Safety Association, a partner of the Safety Officer Days, which are being organised by the Swedish Exhibition & Congress Centre, 16-17 March 2022, in connection with Underhåll, the Swedish Maintenance Fair. During the conference, MSDs, and what can be done to eliminate or mitigate them, will be an important topic of discussion, linked to the "Healthy Workplaces Lighten the Load" campaign, which EU-Osha is currently running across Europe. One aspect of the campaign draws attention to the fact that MSDs can also have a psychosocial background.
– It can be about the pressure you are exposed to in strictly monitored work environments where you cannot exercise control over your workload. The stress increases further if you cannot take a break or go to the toilet when you want to, or need to, says Conny.
He believes that this type of problem can often be remedied with organisational improvements. For example, by having replacements available, taking breaks and rotating tasks so that muscles and joints can rest. He emphasises that the goal must be a sustainable working life:
– You must be able to work an entire working life. And you must be able to end your working life and still feel good, so you can enjoy life as a pensioner. The reality is that many are collapsing long before that. That does not have to be the case.
Over the past two years, working life has changed for many, for example those who have started working from home. Some have continued to work remotely, even after the pandemic. But that trend does not apply to the majority of industrial employees.
– Our members have been working as usual. But their work routines have been revised. Hand hygiene has been made stricter and you must keep your distance in a new way. Some seating has been removed in dining areas, Conny notes.
– That is probably the positive outcome of the pandemic: it has changed the way of thinking, among both employers and employees. We can benefit greatly from this in the future, for example when the flu season strikes.
---
The Safety Officer Days in March 2022 are organised by the Swedish Exhibition & Congress Centre in collaboration with the Nordic Safety Association, IF Metall, Dagens Arbete magazine and the Swedish Trade Union Confederation (LO) in connection with the Swedish Maintenance Fair – a cross-industry forum where technicians and decision makers will encounter future technology and share each other's experiences in smart maintenance, sustainability and industrial safety. More information about both the Swedish Maintenance Fair and the Safety Office Days is available at underhall.se.