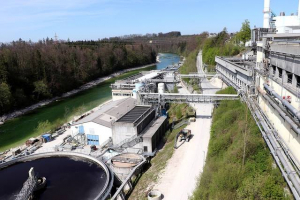 W&W (water and wastewater management) lags behind in the development of preventive maintenance. Something that can lead to unnecessary leakages and interruptions, which in turn can lead to destruction, significant costs and extensive work. In a conversation with four industry representatives, we learn about the challenges that W&W currently faces – and the reasons behind the short lifecycle of pipe systems.
W&W includes the supply of drinking water but also management of wastewater, i.e. sewerage. Both areas require large pipe systems and associated treatment plants. In other words, W&W is an incredibly vital part of modern society. However, the water and sewerage industry faces major challenges caused by the fact that work in maintenance has not developed at a satisfactory pace.
Pär Dalhielm is the CEO of Svenskt Vatten and believes that the development around W&W's maintenance is lagging behind because, among other things, it is difficult and complicated to carry out.
– It is said that W&W maintenance is underdeveloped, because that is the truth. It is a gigantic infrastructure network in which a large proportion of the systems are not visible because they are underground. When it comes to W&W brute force is applied, which has made people forget about working with maintenance. But they should first simply consider the cost, says Pär Dalhielm.
Conny Ohlson, technical and maintenance manager at Stockholm Vatten, is responsible for sewage treatment plants, where he also sees a problem with maintenance.
– When I started, maintenance at sewage plants was hugely behind the times. We have worked systematically for many years now to catch up and implement preventive maintenance based on production needs and criticality analysis. It is a great challenge to explain to people who do not work with maintenance how important preventive maintenance and working methods are. We are now working hard to prepare all work where planning for spare parts, and permission to do work including breakages and blockages is required.
There is broad agreement that the development of maintenance is falling behind across all operations. Thomas Nyberg, business area manager at Sandviken Energi, believes, just like Pär Dalhielm and Conny Ohlson, that finances are one of the reasons.
– It is based on a culture that has developed through many years of work in an environment where short-termism prevailed. In law, each W&W may only have a certain necessary cost, but the competence needed to manage fixed assets over a long period of time has been lacking. The industry is now starting to wake up and understand that the definition of what is a necessary cost must be calculated over the entire life cycle, says Thomas Nyberg.
– Planned and structured maintenance work offers many benefits. Cutting out maintenance in the short term does indeed reduce costs in the short term, but this has extensive consequences in the long term. Apart from the fact that our customers face more frequent shortages in water supply, failure to maintain means higher long-term costs. And it is therefore also more expensive for the customer in the long run. It is also a question of sustainability. We must protect our natural resources as well as our financial resources. Not working with maintenance is a waste of both, says Pär Dalhielm.
There is no doubt that W&W has long been incredibly operationally focused. Another factor behind the neglected development of maintenance is the short-termism: for many years there was no planning ahead for the future. But despite the fact that the maintenance issue is being raised to some extent, different organisations differ in the way it is treated.
– At Sandviken Energi, we have just started talking about criticality analysis, but to cope with that, we need to increase competences. I would guess that these days you will find some W&W companies in the industry that can handle such work and benefit from it. But large parts of the water and sewerage industry are still at a rudimentary level with regard to the efficient and professional management of fixed assets, says Thomas Nyberg.
Walter Jonasson, maintenance manager at Vakin, believes there are several factors that have made it difficult to implement best practices in maintenance.
– For decades, we have collected data in various ways, but we have not been good at processing the information we have received. Today we can work with AI and data warehousing, which feels like a routine for most industries and is just bubbling up for us, says Walter Jonasson.
– If you do not yet have the necessary competence to set up plans and analyses, you need to bring it in now. It will therefore be a cost now, and it might difficult to know where the budget will come from, but in the long run it is absolutely necessary, says Pär Dalhielm.
It is a fact that W&W is facing major challenges as a result of the lack of competence and willingness to invest in maintenance. At the same time, many VA operations and companies are struggling and face difficulties making the necessary investments because of limited budgets and traditional work roles, which makes the subject very current. It is difficult to say what the future will look like in W&W, but it is clear that we must put competence and understanding of maintenance in place across the entire process chain.
– It is about developing competences and embedding the importance of managing our facilities in an appropriate manner in our organisations. We must reach the next level. Maintenance was not needed in the same way before, but with today's operations, the need for availability and process control, it must be developed, Conny Ohlson concludes.
---
Underhåll is Northern Europe's largest and fastest growing meeting place covering all aspects of industrial operations and maintenance. An industry-wide forum where technicians and decision makers right across the maintenance value chain can see the technology of the future and share experiences. The 2020 edition of Underhåll had to be cancelled due to the outbreak of the Corona pandemic in March. The event is therefore all the more long-awaited and we warmly invite you to Underhåll, the Swedish Maintenance Event, taking place on 15-18 March 2022, with a focus on, among other things, smart maintenance, sustainability and industrial safety. More information at www.en.underhall.se