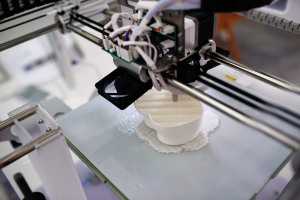 Unplanned downtime means major losses for Swedish industrial companies. The technology now exists to fix these stoppages quickly, but so far, few companies are applying it. 3D printers – which enable companies to print spare parts on demand – are an example, and the market for so-called additive manufacturing is growing by about 30 per cent per year. In addition, sensor technology and digitalisation are evolving faster than ever, making it easy to keep track of the machines' status.
During Underhåll, the Swedish Maintenance Fair, which takes place on 10-13 March at the Swedish Exhibition & Congress Centre in Gothenburg, more than 300 exhibitors and 10,000 visitors will gather to experience the latest in operations and maintenance. Small start-up companies will get the chance to unveil new technologies to industry. And right now there is a big focus on technologies that can reduce the risk of unplanned stoppages.
Unplanned downtime results in losses that run into multi-millions for Swedish industrial companies each year. It is estimated that an unplanned stoppage costs up to 10 times more in lost production than one that is planned.
One technology that can reduce the risk of stoppages and that is on the rise is sensors. With the help of various sensors, measuring instruments and software, which are built into the machines and connected to digital monitoring systems, companies can keep track of the status of different components in the plant and thus reduce the risk of unplanned stoppages.
These are technologies that are developing at a rapid pace. If a company is in control of how the machines are doing, they can maintain, replace or repair components before they break down. This often means that components have a longer service life and that you can choose to make a service intervention at a time that disrupts production as little as possible. If you also know when something needs to be changed, you do not need to keep large stock of spare parts, which saves money for the company, says Sten Farre, research engineer at RISE.
Shorter stoppages
3D printing, or additive manufacturing, allows companies to get back up and running quickly after a stoppage. Scanning a spare part and then 3D printing it rarely takes more than a few days. 3D printing has been around for several years and is also used to print prototypes to test new solutions. The 3D printing market has grown by about 30 per cent every year for the past 10 years, but despite this, few Swedish companies are using the technology.
It is primarily large industrial companies in the medical, energy and aerospace industries and in the automotive industry that are investing in their own 3D printers. Small and medium-sized companies are turning instead to various service agencies for help printing components when needed. And even though usage is increasing, there are still surprisingly few companies that use the new additive technology at all, says Sten Farre.
3D print of metallic components
Being able to print 3D in metal is increasingly in demand today. And solutions are available – either in the form of 3D-printed moulds, which are filled with liquid metal, or regular 3D printing where the component is printed directly in metal.
Sweden is working to become a leader in 3D printing with metal and has developed a roadmap for this. But the ability to handle the machines is a skill that is currently in short supply. For some years now, there have been technical university courses for operators, in Xenter Botkyrka, among other institutions. New college education is under way and research is progressing with about 50 doctoral students in additive manufacturing, so we will see great progress in the next few years, says Sten Farre.
During the Underhåll maintenance fair in Gothenburg, several different seminar participants will highlight different aspects of 3D printing and sensor technology. Participants include Lars Nyborg, professor at Chalmers University, Mohamad Abosh, who will talk about how Volvo 3D prints spare parts, Johan Bengtsson, Technology Development Manager at Gothenburg Technical College, Kalle Grennfalk from Protech, and Martin Wänerholm, editor at U&D, who talks about techniques for on-demand 3D printing of spare parts.
Take part in the entire seminar programme, which you can find here »
For more information
Anna Jarnö, business manager for Underhåll at the Swedish Exhibition & Congress Centre
Telephone: + 46 (0)31-708 80 85.
Email: anna.jarno@svenskamassan.se
---
Underhåll is Europe's largest cross-industry meeting place with a focus on operations and maintenance. Focusing on the sector's most important issues, the event contributes to a greater understanding of how properly executed maintenance contributes to a major uplift in profitability and efficiency for both industry and public infrastructure. More than 330 companies and organisations will exhibit, and the event will be visited by approximately 10,000 people.