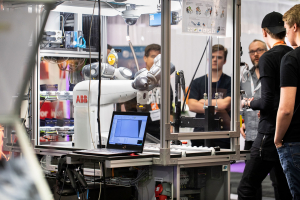 Underhållsmässan, the Gothenburg Maintenance Fair, had to close two days early because of the coronavirus and the Government's ban on gatherings with more than 500 people.
– It is certainly the case that the preparations for the fair, and the fair itself, were overshadowed by coronavirus. We had fewer visitors and some 30 exhibitors could not attend as planned. But we also saw that the situation opened up many good conversations and we were able to implement parts of the programme with the help of live link-ups with speakers via digital technology, says Anna Jarnö, Business Manager for Underhåll 2020.
The Government's ruling on public events
On Wednesday evening, Underhållsmässan was required to notify exhibitors and visitors that the fair had to close two days early, following the Government's decision to ban public events.
– We managed to carry on with part of Underhållsmässan, for which we feel grateful. We followed the recommendations of the Swedish Public Health Agency at all times, and when the message came through it was obvious that we had to cancel the fair, says Anna Jarnö.
Despite the conditions, Anna Jarnö confirms that important and high-quality business meetings had taken place.
– We succeeded in satisfying visitors and exhibitors during the two days that the fair was open and several exhibitors have testified that they had more time than usual for their visitors and for each other, she says.
The support we received from the exhibitors has been great and several have already booked the next edition in 2022. One of them is Easy-Laser:
– Everything we had done in preparation this year was absolutely right and Underhållsmässan had a more international feel, which we appreciated. And then this happened, which nobody could do anything about, and which of course was very regrettable. We were still pleasantly surprised at how many visitors there were on Wednesday and now we are keen to return for the next edition in 2022, says Mikael Terner, COO at Easy-Laser.
Travel restrictions in response to coronavirus
Of the more than 350 exhibitors, 30 either cancelled before the fair opened or exhibited with unmanned booths, when the exhibiting companies introduced their own travel restrictions due to the coronavirus. In terms of visitors, there was a loss of about 60 percent compared to last year's fair.
– On Monday we also found out that some speakers could not come as planned. In most cases, this was solved by establishing a live link-up with the onsite audience, who could ask questions and comment directly via the internet. This new option worked well, exceeding expectations, says Anna Jarnö.
About 350 exhibitors and organisations took part in Underhållsmässan, despite the extraordinary circumstances. Around 2,300 visitors came to the venue over the two days.
We thank all the participants and look forward to welcoming visitors, exhibitors and partners back on 15-18 March 2022.
For more information contact:
Anna Jarnö, Business Manager for Underhållsmässan at the Swedish Exhibition & Congress Centre and Gothia Towers
Telephone: +46 (0)31-708 80 85
E-mail:anna.jarno@svenskamassan.se
---
Underhållsmässan is Europe's largest cross-industry meeting place with a focus on operations and maintenance. Focusing on the sector's most important issues, the event contributes to a greater understanding of how properly executed maintenance contributes towards a major uplift in profitability and efficiency for both industry and public infrastructure. 350 companies and organisations will exhibit, and the event will be visited by approximately 10,000 people.
Reda more about Underhållsmässan here »