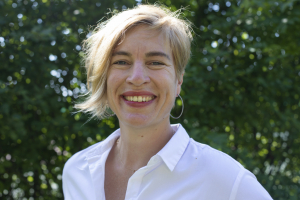 Industry is facing two major changes – to digitalise its processes and to work more sustainably. Sara Davidsson, Sustainability Manager at Midroc, believes that the biggest challenge is to change perspectives and values.
Our impact on the climate casts a shadow over the present day. But the climate issue is closely linked to many other issues that industry needs to solve in order to cope with change.
"The big challenge is to find a way to balance ecological, social and economic perspectives as soon as possible, which will make it worth changing the way we pursue profitability today," says Sara Davidsson, who has many years of experience of industry and business development.
She continues:
"You have to dare to choose a way forward. At Midroc, we want to make a positive difference both in terms of our internal processes and linking sustainability to our business."
It is wise to invest in smart maintenance
Smart maintenance work and new technical solutions offer ways to tackle the challenges. On construction projects and in maintenance work for its clients, Midroc uses digital aids that simplify the work and contribute to increased safety, reduced risk of environmentally harmful emissions, better quality of production and fewer errors.
"Maintenance can be anything from reactive maintenance to criticality-based, preventive maintenance. From a life-cycle perspective, properly planned and  implemented maintenance is a wise investment, which can both save our customers uncomfortable environmental debts and contribute to increased productivity and profitability."
You cannot rely on technology alone
Digital solutions will become important tools in the transition, if used consciously and properly. But we can't just rely on technology, says Sara Davidsson.
"We also have to change our behaviour! Researchers agree that there is a need to reduce emissions. We need to work locally and globally in all areas that create emissions. There can be new production methods, changed transport patterns and new consumption patterns. The construction industry itself accounts for 20 percent of Sweden's carbon dioxide emissions. We cannot solve this with maintenance alone."
Start small and dare to opt out
Sara Davidsson understands the frustration of those calling for the big change that is required. But she recommends that companies start small and make small changes in the right direction. As an organisation, you must dare to opt out and work specifically on the priorities you set out. When Sara Davidsson looks to the future, she thinks people will notice who is focusing on what.
"Sustainability issues will occupy some boardrooms more and more, while others have set their sights on short-term profits. I am pleased to read about companies that come up with initiatives and concrete investment proposals – where there is a dialogue between researchers, business and politics. Earlier goals such as winning market share alone may need to be replaced by collaborations and common solutions and agreements," she says.
Sustainability is one of the focus areas for Underhåll, the Maintenance Fair, which takes place on 10-13 March 2020 at the Swedish  Exhibition & Congress Centre, Gothenburg. Checkproof and Midroc invite contributions from industry in a panel discussion about major changes on 11 March. Sara Davidsson will lead the conversation. You can find more information about Underhåll, the Swedish Maintenance Fair and its programme here www.underhall.se