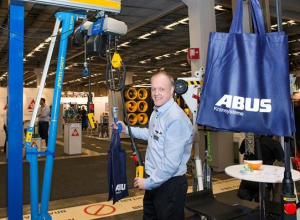 ABUS will showcase innovative models that no one has seen outside an inner circle. The public premiere will be on 31 May, at Underhåll, the Swedish Maintenance Fair.
— It will be great to be able to showcase this, says Tony Wittgren, CEO of ABUS Crane Systems in Sweden.
ABUS Crane Systems, founded in Germany in the 1960s, is one of Europe's largest manufacturers and suppliers of industrial cranes, travelling cranes and hoists.
— In some product areas, we are definitely one of the largest on the Swedish market today, says Tony Wittgren. He is responsible for the Swedish operations from the head office in Karlstad, which is currently being expanded with an extended central warehouse and an improved training centre.
Since an important part of the business model is to be close to the customer, the company has built up a network of dealers and service technicians in 25 locations in Sweden, from Kristianstad to Kiruna. ABUS Kransystem with its dealers, Carlhag and JJ Gruppen, jointly call themselves the ABUS Sweden Group.
— Proximity creates safety for the customer. We like to say that with the ABUS Sweden Group, our customers are not only able to lift safely; they are also in safe hands. If necessary, we can always be  on the spot quickly, says Tony.
Rapid deployment
ABUS Kransystem was introduced to the Swedish market in 1986. The ABUS business concept, based on standardised travelling cranes, jib cranes and hoists, had grown rapidly in the European market.
— The same development took place in the Swedish market, and within a few years ABUS was established as one of the major players in Sweden. Being able to offer a quality product at the right price was then, as now, the ABUS watchword.
During the crisis years of the early 1990s, the vast majority were affected, including ABUS. Despite this, ABUS invested in a new factory in Germany, which was completed in 1997.
Product development also took place during this period, including a new generation of operating handles, new electronic overload protection and an upgraded generation of the wire rope hoists series.
— ABUS in Sweden was partially reorganised during this time, which laid the foundations for a new phase of expansion for the ABUS Sweden Group, explains Tony Wittgren.
In the 2000s, ABUS launched a new electric chain hoist series, which is modular in design. Affordable and easy to maintain, the ABUCompact chain hoist saw great international success.
— Sales also took a big leap forward in Sweden, not only for the chain hoist but also for ABUS light lifting products such as jib cranes and light lifting gantries. With the larger factory in Germany, we were able to raise the turnover of the ABUS Sweden Group to around SEK 250 million.
New generations of smart products
The innovative chain hoist has been updated several times and is still a best seller. In recent years, it has been joined by a new generation of smart, proprietary products.
These include a new profile family for lightweight travelling cranes, the ABURemote radio control system, the ABUControl electrical control system for travelling cranes and the new GM1000m modular wire rope hoist.
The suspension of the light rails for HB-systems can be mounted from above, regardless of where the profile joint is located. It provides more cost-effective systems and maintenance is simplified. When a suspension wears out over time it is simply lifted out and replaced with a new one.
You don't have to strip out all the other suspensions and then refit them again, as in traditional profiles.
— ABUS radio control ABURemote is now sold with almost all travelling cranes on the Swedish market, says Tony Wittgren.
— In addition to ergonomic design and efficient inductive charging, the weight of the load is shown on the display of the radio transmitter. A very useful feature, both to avoid overloading and to know how much you can load, for example, a truck fender.
Strategic investment in the aftermarket
— One area where we are increasingly investing is services and training. For example, crane operator training and the ABUS service course. We offer servicing of crane systems of all makes on the market and undertake service contracts throughout Sweden. The turnover has been raised to another level, around SEK 350 million. Tony Wittgren believes that a consistent focus on marketing efforts, training and service is an important part of the recipe for success and highlights Underhåll, the Swedish Maintenance Fair, in particular.
— We are there every year, and it is very important for us. We make our first contact with prospective customers there, as well as meeting existing customers, he says.
Ahead of this year's fair, he offers a "cliffhanger": unique travelling crane models.
— They will clearly show how we can vary the configurations according to the customer's needs, Tony says. All of which will give customers a real lift!
---
Facts/ABUS Kransysteme GmbH
Established: 1965
Headquarters: Gummersbach, Germany
Employees: approx.. 1,100 (company); approx. 130 (ABUS Sweden)
Turnover, ABUS Sweden: SEK 350 million
Products: overhead travelling cranes, jib cranes, hoists
Services: training, maintenance services