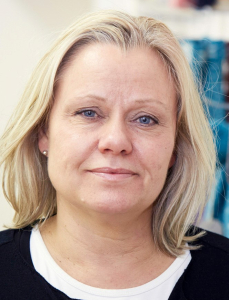 – Now we see how the focus is shifting: from seeing maintenance as a cost to seeing it as an investment in the company  – and as a boardroom issue.
So says Maria Stockefors, CEO of Svenskt Underhåll, the Swedish Maintenance Association, which is a partner of Underhåll 2022, the Swedish Maintenance Fair. The Association plans to promote its core issues at the event and present a newly developed service to measure skills and qualifications.
Maria Stockefors has a background in manufacturing industry and has just had time to settle into the role of CEO of the Swedish Maintenance Association. She took the helm at the end of November 2021. The organisation's mission is to create world-class maintenance.
– That's why the Swedish Maintenance Fair is so important to us. It gives us an excellent opportunity to put forward the issues that concern us, and to show how we can promote a competitive industry with sustainable maintenance technology and high reliability, she says. At this year's fair, we're focusing on the resource savings that come from using the right technology and the right skills.
Maria notes that the transition to smart maintenance, with increased digitalisation and automation, is moving at an incredibly fast pace.
– For us it is especially important that maintenance technology and human effort are not seen as a cost but as an investment in the organisation. What we're seeing more and more is management starting to shift the focus: bringing maintenance under financial control and making it a boardroom issue. That's encouraging, she explains.
In order to achieve resource-efficient maintenance work, it is important to have the right skills. And this has also become a key issue for Svenskt Underhåll.
The Association already offers a well-respected and well-established European-level certification for maintenance personnel, in cooperation with training institutes and schools in Sweden.
– We conduct exams for maintenance technicians and maintenance supervisors. It is important for the entire industry that companies, by certifying their employees, get a seal of quality, says Maria Stockefors.
The next step in the development of skills in Swedish industry is now being taken on the initiative of Svenskt Underhåll. This is being done in cooperation with EFNMS, the European Federation of National Maintenance Organisations.
– Together with EFNMS, we are running an exciting Erasmus project on new validation services, with Sweden as the lead partner. Our aim is soon to be able to offer a wide range of services, allowing companies to measure their employees' qualifications. And then also to see if training needs to be added to support the skills supply.
Tests are currently being carried out and it is hoped that the service will be offered to Swedish businesses as soon as possible, perhaps as early as this autumn.
– It is an important development in maintenance work and of great importance to be able to help companies in this way. I expect we'll be able to tell you more about the project at the Underhåll maintenance fair, says Maria.
Svenskt Underhåll is also involved in several programme items at the event. Among other things, it will select the Maintenance Manager of the Year and crown the winner of the Higher Education Thesis of the Year. The winners are automatically nominated for the corresponding competitions for all EFNMS countries in Europe.
– It is also important for us to meet our members and the industry as a whole. Networking, listening, gaining new impressions and new contacts.
– I hope we get a very good response at the fair. Despite the impact of the pandemic, we are moving forward strongly, and we are highly motivated. We feel there is a powerful interest in maintenance issues and a reliable industry.
---
Underhåll is Northern Europe's largest and fastest growing meeting place covering all aspects of industrial operations and maintenance. An industry-wide forum where technicians and decision makers right across the maintenance value chain can see the technology of the future and share experiences. The 2020 edition of Underhåll had to be cancelled due to the outbreak of the Corona pandemic in March. The event is therefore all the more long-awaited and we warmly invite you to Underhåll 2022, 15-18 March, with a focus on among other things smart maintenance, sustainability and industrial safety. More information is available at underhall.se.