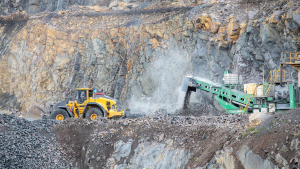 A completely new way of working will be the key to cost savings and increased operational reliability for Swerock and Peab Asfalt. A digital solution makes it easier to carry out the right maintenance on the right equipment at the right time. 
Payman Namvar, project manager at Swerock's maintenance department in Gothenburg, is leading the work to introduce a digital maintenance system within Swerock and Peab Asfalt. The companies, which are part of the Peab Group, supply products and services to the construction industry, including gravel and other quarry materials, the manufacture and delivery of asphalt and concrete, transport and machine rental and environmental services.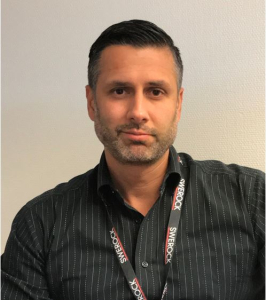 – These days we work in different ways to plan and conduct maintenance work. Some use Excel, others document work using whiteboards and in paper form. A few use some form of digital system. But now we have started talking about alignment and standardisation, Payman Namvar says.
It has been, and remains, a challenge to convince all employees that it is necessary to make the transition to using a digital system and an app.
– Many have not seen this need themselves. Therefore, we have put great emphasis on visualising the need and talking about the solution, Payman Namvar adds.
The new system is used to collect information and keep documentation according to the latest maintenance standards. The idea is to create an overall picture of the plant and machinery and then make planned efforts to change the picture in the right way.
– This is about reducing the need for maintenance and optimising what is left. Many people think that we need to do more maintenance to increase operational reliability, but instead it is about doing the right maintenance on the right machine at the right time, according to Payman Namvar.
He cites an example of an area where the digital way of working has resulted in a clear benefit.
– Previously, there was no systematic documentation of faults and breakdowns on belt conveyors that move crushed stone, for example. It was difficult to get an overview of which parts underwent maintenance and when. We now have a system that classifies information about downtime and what damage to the machines has occurred, Payman Namvar says.
With this data, it will be easy to predict what it will cost if no change is made, compared to investing in new equipment – valuable facts for decision makers.
In Kållered, for example, Swerock has made large savings in maintenance costs since 2018 when it started implementing the new way of working. The number of emergency maintenance stops has also decreased significantly.
– We have avoided major accidents by working preventively and thus been able to produce more. The vision is of course to maximise operational reliability going forward, Payman Namvar concludes.
---
Underhåll takes place on 31 May – 3 June 2022 at the Swedish Exhibition & Congress Centre in Gothenburg. Payman Namvar will participate as one of the speakers on Thursday. He will then share more about how Swerock and Peab Asfalt maximise operational reliability and keep costs down with the help of digital tools. You can find more information about Underhåll, the Swedish Maintenance Fair and its programme here: www.underhall.se