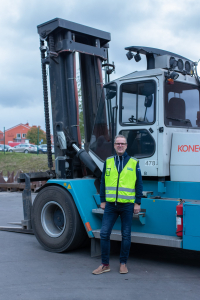 The number of accidents that involve trucks has increased by 50 per cent in ten years. For lifting and other risky tasks, the curve is also going in the wrong direction.
– The negative trend must be broken. Managers and supervisors at all levels bear this heavy responsibility, says Per Dyrlid at Dematek, who will give training on the issue at the Swedish Maintenance Fair, Underhåll.
As a nationwide supplier and installer of lifting technology, Dematek feels a special responsibility for ensuring that the equipment is used correctly. An absolute prerequisite is that the person handling the traverse, the lifting device, crane or truck knows what he or she is doing. In other words: that they have received the right health and safety training.
Unfortunately, this is not always the case. Developments point in the wrong direction. Fatal accidents, especially ones with trucks involved, occur every year. The 50% increase in the frequency of accidents over the past ten years speaks for itself. Magnus Johansson, head of education at Dematek, is concerned:
– We often come across company executives who do not know which laws and regulations apply with regard to the employer's responsibilities for occupational health and safety. We appreciate that it can be difficult to keep track of these, but unfortunately we are not seeing the gradual improvement we had expected and hoped for.
Knowledge of the issues and safety need to increase significantly, he says. Dematek is therefore making an educational investment in training, directly aimed at personnel managers, at Underhåll, 15-18 March 2022 in Gothenburg.
– It's a great opportunity for us to spread important knowledge about what the laws and regulations say and to contribute to a safer work environment, says Magnus.
He sees hopeful signs, despite the disappointing accident statistics:
– A positive trend is that larger companies with a strong focus on safety are, to a large extent, making occupational safety training an internal requirement for managers with personnel responsibilities. It is a step in the right direction, we hope that trend continues.
Dematek is offering a one-day course on employer responsibilities that normally costs SEK 3,000 per participant. At Underhåll, where the training will be concentrated into four hours and will conclude with the award of diplomas, it will be completely free of charge.
– The subject is important, and we hope that many sign up. We are appealing to all types of managers with responsibility for personnel, from the CEO downwards, says the instructor and course leader Per Dyrlid.
He emphasises that the need for further training in these matters is constant. Not least when a manager leaves and a new one joins.
– The employer must work to prevent accidents. If an accident happens to you, you are not to blame. Sweden's Work Environment Act is very clear on that point.
Chapter 3, Section 3, states that the employer must ensure that the employee acquires a good knowledge of the conditions in which the work is conducted and that the employee is informed of the risks that may be associated with the work.
It does not even help to claim that someone lied or cheated on a job.
– Fake truck licenses, which are flourishing right now, are a typical example. Or certificates from schools and companies that may not even exist. Something you could easily find out with a simple Google search, Per states.
The employer is obliged to verify that an employee has the training that he claims to have. This is how far responsibility extends, which not everyone knows, far from it. Training at Underhåll delves deeply into these issues: partly in a general section, partly with a focus on trucks, lifting and work at high altitude.
– We place great emphasis on systematic measures in the working environment, so that both managers and employees can follow the regulations and feel safe in it.
A lot is about risk analyses. For example, when purchasing a new item of equipment. Per Dyrlid strongly recommends that not only managers, but also operators be involved in that process.
– This increases the probability that you buy the right equipment. It also leads to increased operational reliability. The operator must take care of the daily supervision of the machine, while the employer is responsible for the ongoing maintenance.
During the training session, Per Dyrlid will welcome questions about specific problems related to the participants' day-to-day lives. He is looking forward to a rewarding dialogue.
– I see it as very important to highlight the problems that exist. Right now, we are seeing, for example, a heated discussion about extended working hours, personnel with a 90-hour working week for industrial projects in northern Sweden. So everyone understands that the risk of accidents is increasing. Hopefully, those who take the course will contribute to the discussion and gain new insights that can lead to better analyses of risks and their consequences.
---
Underhållsmässan is Northern Europe's largest and fastest growing meeting place covering all aspects of industrial operations and maintenance. An industry-wide forum where technicians and decision makers right across the maintenance value chain can see the technology of the future and share experiences. The 2020 edition of Underhållsmässan had to be cancelled due to the outbreak of the Corona pandemic in March. The event is therefore all the more long-awaited and we warmly invite you to Underhållsmässan 2022, 31 May – 3 June, with a focus on among other things smart maintenance, sustainability and industrial safety. More information at underhall.se