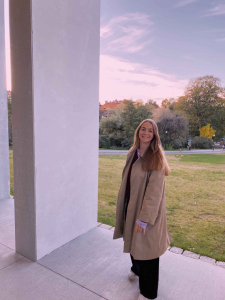 To continue creating value for companies and society, half of today's industrial employees need further education within the next four years. That is the opinion of Greta Braun, a researcher at Chalmers.
– We are entering an epoch where not only companies must be competitive, but also their employees, she says. 
In a seminar at the Underhåll 2022, she will expand on what she has found out, from a number of perspectives.
– We are in the middle of an industrial revolution, which means great challenges for companies, she says. But the same goes for their employees. Many of them need to be trained to be able to continue working in the company – or to be able to get a new job!
The World Economic Forum recently presented a study which showed that more than half of the world's industrial employees will need supplementary training by 2025 to complete their tasks. Either upskilling, i.e. further education, to continue doing the job you do today. Or reskilling, to train for a completely new job. According to Greta Braun, the Swedish labour market is not significantly different:
– I would say that the needs are more or less the same in Sweden. In order to remain attractive in the labour market, in order to continue to create value for their companies and society, employees need to acquire new knowledge.
Greta sees several different trends that are driving developments.
– Digitalisation and new technologies, which are coming in different waves, and the increased focus on sustainability, have sharpened competition. Companies that lack the right skills risk going under.
The transition to hydrogen propulsion and electrification of large parts of the transport sector, the mining industry, the steel industry are just a few examples.
– The problem as we see it is that the transition largely focuses on the new technologies, while the training of the employees has not been given sufficient priority. Which can lead to the technology not being fully utilised.
There is no one-size-fits-all solution, she emphasises.
– There is a great need for individually adapted study paths and there is a large selection of courses, but the two do not always match up. This is where my research comes in: exactly how to match the needs with training that is available on the market. The solution can be training modules and platforms that gather together industrial training.
Responsibility for the education does not rest with just one party, says Greta Braun:
– The employer can help with resources, time and money. And demonstrate the importance of being a role model, not least as a manager. But there is also a great responsibility on the part of employees to take advantage of the opportunities and really invest in themselves!
---
Underhåll is Northern Europe's largest and fastest growing meeting place covering all aspects of industrial operations and maintenance. An industry-wide forum where technicians and decision makers right across the maintenance value chain can see the technology of the future and share experiences. The 2020 edition of Underhåll had to be cancelled due to the outbreak of the Corona pandemic in March. The event is therefore all the more long-awaited and we warmly invite you to Underhåll  2022, 31 May – 3 June, with a focus on among other things smart maintenance, sustainability and industrial safety. More information at underhall.se