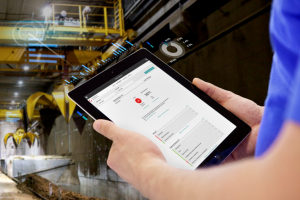 The lifting and equipment handling industry is heading for a record year. The final phase of the pandemic led to a sharp upswing, both in terms of investments in new smart technology and in digital service solutions. We gauge the current situation in a sector that is sizzling, imbued with faith in the future.
Cranes and overhead cranes, service systems and equipment for material handling constitute a key industrial sector. The lifting industry, as it is popularly called, is equally important for all sectors of Swedish industry and it is well represented at the Swedish Maintenance Fair, Underhåll.
The past two years have been dizzying for the industry, which has gone from an almost total stop when the pandemic hit in the spring of 2020 to a very strong 2021. To find out everything that happened during the roller coaster journey, we spoke with two leading lights in the industry, – Patrik Skoog, CEO of Konecranes and Niklas Håkansson, CEO of PMH International.
– It has been a challenging time, states Patrik Skoog. Not least in service and aftermarket, which account for more than half of our sales. Konecranes has 800 service agreements servicing 15,000 items of lifting equipment annually. During their visits, service technicians suddenly had to face a new reality.
– We had to balance customers' various demands against the risk of infection and the safety of our teams. It wasn't easy, especially at the beginning of the pandemic, before new routines and processes took hold. On the product side, there was a decrease in new sales as a result of deferred investment decisions. But after a few months the handbrake was released and this year we've picked up speed.
– It feels like many customers have taken 2020 into 2021, which will be a peak year for us, in fact the best ever, in terms of the number of cranes and overhead cranes sold. The lifting industry is thus hotter than ever. Not least because well-functioning material flows have become an increasingly important part of the green transition.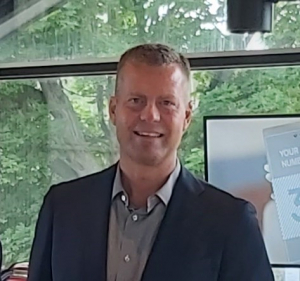 – We're seeing a very exciting development, for example in mining and steel, in the automotive industry and also in paper and pulp, says Patrik Skoog.
Increasingly smart technology is contributing to this development. Digital tools for service, often based on sensor technology and central monitoring, have become more common.
– This is a clear trend. The new technology is making  service safer and more cost-effective. Service technicians do not have to go up the overhead cranes as often. Doing so is risky, on the one hand, and it means a disruption to production on the other. We have also developed apps that help the customer to do daily checks.
A notable example of the new digital way of working concerns LKAB, where Konecranes will take over service and maintenance on all the mining group's cranes and overhead cranes from November this year. Increased sustainability requirements, which also include risk analyses and digitalization, are driving development.
– I would say that today it is a prerequisite for doing business with larger industrial customers, says Patrik Skoog.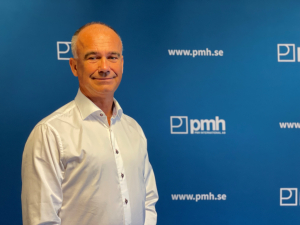 PMH International in Ystad, an agency for a number of quality brands and also a manufacturer of lifting and material handling equipment, also attaches great importance to which partners they choose from a sustainability perspective.
– The German company Schmalz, for example, is one of our major suppliers and has received several awards for its thinking on sustainability, says CEO Niklas Håkansson. Among other things, they produce their own water, solar and wind energy, which not only covers the company's own needs but also creates a surplus that is fed back into the electricity grid and thus creates negative CO2 emissions.
Niklas Håkansson well remembers how the pandemic hit PMH with its full force in April 2020.
– Suddenly everything fell apart. After two months, the business slowly started to get going again, but by the autumn we already had business-as-usual. This year has gone even better, it will be one of our best years ever.
According to Niklas Håkansson, a trend that partly explains the upswing for the lifting industry is that it has chosen to move more and more production to Sweden as a result of the pandemic and is, increasingly, demanding smart lifting technology. He believes that the pandemic has to some extent accelerated technological development, because digital tools often contribute to reducing the risk of infection.
– With the new app technology, which made its breakthrough this year, for example, technical manuals, drawings and spare parts lists have become fully digital. This makes the work easier and improves safety enormously, both for customers and service technicians.
PMH is working more and more with 3D drawings and renderings to present its solutions and offers. It is clear that this makes everything more transparent and improves the customer's understanding.
– A good example is an app that Danish Hovmand has developed for their lifting trolleys whereby you can use 3D technology to "build" them in thousands of different combinations and then, using advanced camera technology, test drive them virtually on the customer's premises / in production.
Niklas Håkansson stresses the importance of more people gaining insight into all smart solutions and technical innovations for efficient management. He also believes that, now that the restrictions have been lifted, a physical fair is the best way to engage. First and foremost he is thinking of the Swedish Maintenance Fair 2022 (Underhåll), which lifting equipment suppliers have chosen for their meeting place to raise the sector's visibility.
– The team behind the fair has done an exceptionally good job for a long time, with the result that lifting equipment has become a significant part of Underhåll, says Niklas.
– The investment needs in the industry are great and for the lifting industry, next year's fair provides an excellent opportunity to launch everything new that has happened over the past two years.
Patrik Skoog from Konecranes agrees:
– There is a pent-up need in the industry for a physical meeting. Business is conducted between people. We want to meet, hear the latest news, create and maintain relationships.
– I think the Swedish Maintenance Fair is the best place for us to be. Our company is showing this through a major investment in smart service and we will also bring a whole new generation of overhead cranes to the stand.
---
Underhåll is Northern Europe's largest and fastest growing meeting place covering all aspects of industrial operations and maintenance. An industry-wide forum where technicians and decision makers right across the maintenance value chain can see the technology of the future and share experiences. The 2020 edition of Underhåll had to be cancelled due to the outbreak of the Corona pandemic in March. The event is therefore all the more long-awaited and we warmly invite you to Underhåll  2022, 15-18 March, with a focus on among other things smart maintenance, sustainability and industrial safety. More information at underhall.se.