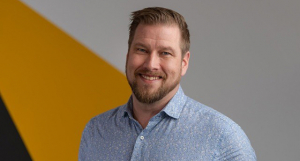 Edge AI, smart sensors and thermal imaging cameras create a completely new environment for industrial maintenance. And this cutting-edge technology often emerges from start-ups.
– There is an enormous potential for Swedish industry here, says Niklas Sikström from Ignite Sweden, which is taking part in the Swedish maintenance tradefair, Underhåll 2022.
At Underhåll 2020 (which had to break up early due to the corona pandemic), we presented a new arena for start-up companies in the maintenance sector. The initiative will be resumed at Underhåll 2022.
– We see great interest from many in the industry and would like to develop the concept further, says Anna Jarnö, business manager for Underhåll.
She is strongly supported by Niklas Sikström, Key Partner Manager at Ignite Sweden, who works daily to promote innovative start-ups.
– We are currently experiencing a fantastic innovative force in the field of maintenance. There are thousands of start-up companies with new technical solutions in Sweden alone. Globally, there are between 20,000 and 30,000 start-ups working with technologies that are intended for, or could be used for, maintenance.
According to Niklas Sikström, what stands in the way of rapid development is that Swedish industry to a large extent employs subcontractors who have not adopted modern digital technology to facilitate maintenance or prevent the need for it. He is worried about the long-term consequences.
– If maintenance does not become more efficient in Sweden, large industrial companies will relocate to other countries. We then risk losing knowledge in an area we have so far been very good at here in Sweden.
It is no longer enough to put your hand on an engine to determine how hot it is or how much it  is vibrating, he says.
– We should already be at the next stage, where a smart sensor or a thermal imager measures and tells you exactly when it's time to change a bearing. Or take preventive maintenance with the help of Edge AI, where you place a microcomputer on the machine and add AI, which reads the sensors and can tell you that it should be serviced in 30 days.
Sensor-controlled algorithms can already be connected to logistics chains for just-in-time deliveries of spare parts and fluids, which means you avoid scheduled maintenance. The machine itself tells you when it needs service.
– This is not science fiction, but an example of the predictive maintenance that is available. In Sweden, companies such as ABB, Alfa Laval and SICK are among the leaders.
Niklas Sikström is convinced that the operational reliability and efficiency of Swedish industry would increase significantly if more people dared to invest in the latest digital maintenance technology.
– There is a great untapped potential, he says. That we have not come any further is partly due to ignorance, and partly because many companies find it uncomfortable to go outside the traditional channels.
It is also a matter of getting the right staff, with the right skills.
– Traditional industry has a hard time attracting developers of technologies like AI, VR, AR, and more. Many who have these skills choose instead to start their own companies or work in start-ups.
For that very reason, he thinks it is extra smart to start collaborations with specialist start-ups. At Underhåll 2022, for example.
– I would like to see larger companies and maintenance companies get in touch there and discuss future solutions with the start-ups that are present. It's a smart way to gain access to cutting-edge expertise that is difficult to recruit.
Both sides have a lot to learn from each other, Niklas Sikström believes.
– My appeal is: dare to try it out! It is easier and cheaper than many people think. You just need to invest a small amount of money and short cycle-times to see if it works. There really is nothing to lose, while the gains can be as big as you like.
---
Underhåll is Northern Europe's largest and fastest growing meeting place covering all aspects of industrial operations and maintenance. An industry-wide forum where technicians and decision makers right across the maintenance value chain can see the technology of the future and share experiences. The 2020 edition of Underhåll had to be cancelled due to the outbreak of the Corona pandemic in March. The event is therefore all the more long-awaited and we warmly invite you to Underhåll, the Swedish Maintenance Event, taking place on 15-18 March 2022, with a focus on, among other things, smart maintenance, sustainability and industrial safety. More information at www.en.underhall.se