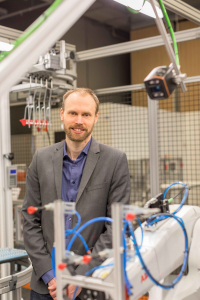 In the project "Production for Future", visitors to Underhåll 2022 will get an insight into the reliable and sustainable industry of the future.
– We want to show, in a concrete fashion, how digitalisation and sustainability are connected, says Johan Bengtsson at Gothenburg Technical College, GTC.
For the past twelve years, the student projects from GTC – The Biscuit Factory, The World of Opportunities and Smart Factories – became real hits with visitors to Underhåll. Now it's time for the very latest, called Production for Future. Two mini-factories with collaborative robot applications, built by students working together with companies, will be shown at Underhåll 2022. Among other things, mini models of the truck of the future, the electric and self-driving Volvo Vera, will be manufactured there.
Volvo Group is involved in financing the project together with the Västra Götaland region and Vinnova. The partners are Ericsson, ABB and Chalmers University.
Concepts and technologies such as AR (Augmented Reality), VR (Virtual Reality) and IoT (Internet of Things) are applied in the mini-factories. For example, visitors get to see how to solve problems through additive manufacturing.
– We will make 3D-printed components and spare parts for our factories, explains Johan Bengtsson, technology development manager at GTC. Hopefully we get a few breakages! If we break something, maybe a grip finger for the robot, we can make a new one. That would be fun. We would like to engage visitors at the fair, who are welcome to take part in the process.
The stand visitors are guided by about 20 students, young men and women who have been involved in building the mini factories. It is no coincidence that both sexes are taking part. In addition to sustainability, the project focuses on diversity.
– We want to show that technology is also an attractive career choice for girls and other groups who are under-represented in the industry, says Johan. Incidentally, one of the mini-factories was built precisely to raise up young female role models in a collaboration between 14 female students.
At GTC, which is run jointly by the business community and the city council, a number of technical education and development projects are being conducted at different levels. An important driving force is the industry's need for a supply of people with the right skills.
– All our students, from polytechnics, high schools and colleges, get jobs. They are attractive to employers, and they are doing very well, says Johan Bengtsson.
He sees Underhåll as an important place to make contact.
– A big benefit for our students is that they grow a lot during the fair. They work on the stand, get to talk to visitors, take responsibility and show their knowledge.
Preparations begin several months before the fair.
– We are bringing industry into their learning process, planning what we will present and how we will behave, he says. The fair is also important for young people to take part in the latest technology in all focus areas. So for us, the Underhåll is one of the real highlights of the year!
The focus areas at Underhåll 2022, –  Sustainable Maintenance, Digitalisation, Additive Manufacturing, Industrial Safety and Productivity – are completely in line with GTC's perspectives, Johan says:
– For example, we see digitalisation as an important enabler, linked to operational reliability and sustainability. Which we are also trying to show in this project.
– I absolutely feel that awareness of these relationships has increased in industry in recent years. But we must be specific about how operations and maintenance will be sustainable in the long term. There is still a lot to do.
Anna Jarnö, business manager for Underhåll, welcomes the initiative and takes a positive view of the long-term collaboration with GTC.
– In our role as organiser of the event, we attach great importance to competence development and want to promote collaboration between business and education both at secondary level and in higher education.
The purpose of Production for Future is to show new technology in its context. This means that every visitor has the opportunity to see a practical demonstration of the latest technical solutions both on the exhibition floor and in the theatre programme, with both Gothenburg Technical College and Chalmers University taking part, among others.
---
Underhåll is Northern Europe's largest and fastest growing meeting place covering all aspects of industrial operations and maintenance. An industry-wide forum where technicians and decision makers right across the maintenance value chain can see the technology of the future and share experiences. The 2020 edition of Underhåll had to be cancelled due to the outbreak of the Corona pandemic in March. The event is therefore all the more long-awaited and we warmly invite you to Maintenance 2022, 15-18 March, with a focus on among other things smart maintenance, sustainability and industrial safety. More information at underhall.se