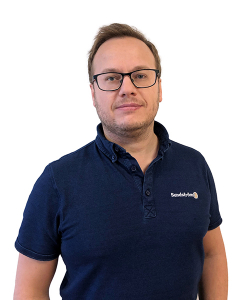 Since the outbreak of the pandemic, sales of protective equipment have received a huge boost.
– We have never experienced anything like this, says Erik Timén at Sundström Safety. At the same time, he sees growing problems, linked to respiratory protection. The direct cause: more and more people wear beards.
The coronavirus pandemic has made the questions about how we protect ourselves against external dangers, both in the workplace and in our personal life, more relevant than ever. During the Safety Officer Days at Underhåll from 15 to 18 March 2022, personal protective equipment (PPE) and how it is used will be a hot topic of debate. Demand for all types of protective equipment has increased sharply since the outbreak of the coronavirus pandemic in the spring of 2020. This also applies to protective clothing, shoes, helmets, gloves, filters, masks, respiratory protection, etc. that protect against other things than viruses.
– Yes, that's how it is. We are seeing a huge increase right across the sector, says Erik Timén, Sales Manager Nordic at Sundström Safety, a leading supplier of its own respiratory protective equipment for industrial use. Our own sales have broken all-time records. We have experienced enormous pressure and have not always been able to produce as much as our customers want, he adds.
Erik Timén is convinced that there is a connection: the pandemic has made us think. And it has increased public awareness of the need to protect ourselves.
We see it in the form of changed behavioural patterns. Most people realise, for example, that it is good to wash your hands a little more often if you want to avoid infections.
In addition to the increased demand for hygiene items, hand alcohol, mouth guards and visors, the new consciousness has had business consequences for the entire personal protection sector.
– When I talk to colleagues in the industry, they draw the same conclusion as myself: that it has definitely had a positive impact, says Erik.
At the same time, he is concerned about how the equipment is used. Especially with regard to the company's own product.
– No matter how good the respiratory protection we offer, it can't help if used incorrectly. The mask must fit snugly if it is to work. And this is basically impossible if the person wearing the equipment has a beard.
The development is worrying, he says, because it has become increasingly common among men to wear a beard or a few millimetres of stubble.
– If you have something between your skin and the rubber in the mask, the inhaled air does not pass through the filter. And then the protection is basically non-existent.
Erik Timén will raise the issue when he takes part in Underhåll, and above all, he wants to reach out to the safety officers. He believes that the problem is not always taken seriously among employers and unions and gives a frightening example:
– I got a call from a leading union asking how they could avoid legislation on working with asbestos so that their members could keep their beards. I could hardly believe my ears!
He thinks many are trying to avoid the issue, burying their heads in the sand, so to speak. Even though it means running a deadly risk. In 2019, the WHO compiled a global report showing that seven million people die each year from diseases directly related to the inhalation of dust and particles. For Sweden, the death toll is around 8,000 per year.
– To put this in context, 46 people died in workplace accidents in Sweden in 2019. This in itself is serious and all trade unions are aware of it.
But all the deaths caused by people inhaling dust and particles in their workplaces are rarely talked about, if at all, Erik Timén notes.
– The victim faces a slow death and eventually becomes just an anonymous figure in the statistics. This is a huge problem, and it is high time to start discussing it!
---
Underhåll is Northern Europe's largest and fastest growing meeting place covering all aspects of industrial operations and maintenance. An industry-wide forum where technicians and decision makers right across the maintenance value chain can see the technology of the future and share experiences. The 2020 edition of Underhåll had to be cancelled due to the outbreak of the Corona pandemic in March. The event is therefore all the more long-awaited and we warmly invite you to Maintenance 2022, 15-18 March, with a focus on among other things smart maintenance, sustainability and industrial safety. More information at underhall.se