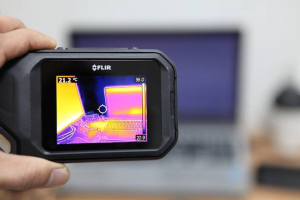 We will not use less energy in the future – we will use more. To build a sustainable society, we need to find new ways to use and recycle heat. Artificial intelligence and new technological innovations can lay the foundations for how we make heat exchange more efficient. Three completely different companies have come together to drive this development.
Heat exchangers are not something that ordinary people encounter in their everyday lives. But they are to be found everywhere, fulfilling a great function to save heat and energy. Researchers believe that streamlining heat exchange can reduce carbon dioxide emissions by two per cent and open doors for further technical solutions.
Anders Nyander works with technical development at the global company Alfa Laval and has, together with the technology supplier FLIR and the start-up company Ekkono, initiated a streamlining project addressing the future of heat exchange.
– We are in the process of a technology transition whereby more and more is being digitalized and driven by computer control. As a large company, it may be necessary to experiment a little and let go of the classic way of working. It is also important to be clever and agile in developing new projects Our collaboration with FLIR and Ekkono means that we can break new ground and make technical improvements in heat exchange, Anders Nyander says.
The technology supplier FLIR works with thermal imaging cameras and thermography, which serves as an important analytical tool for heat exchangers. Katrin Strandemar is head of technology and innovation at the company, and she describes how they bring technical expertise to the project.
– Our collaboration is like an ecosystem where we can each add intelligence. We work in different industries and are experts in different areas. FLIR has the generic technology that is very powerful and works well in this project, she says.
The last company to be included in the collaboration to develop and improve heat exchangers is Ekkono Solutions, a start-up working with artificial intelligence, more specifically machine learning, and how machines themselves can register and understand data. Anders Alneng is the founder of Ekkono and talks about the benefits of this technology.
– We do machine learning for electronics, where one of our strengths is self-governing algorithms and learning about how each specific machine behaves. For example, we can measure how dirty a heat exchanger is, which makes it easier to understand when it needs maintenance. It is a symbiosis based on converting data into actual algorithms about each machine.
The development of self-learning heat exchangers is in full swing. Despite their different sizes, this is a rewarding collaboration that is moving each of the companies forwards.
– I generally think that the whole world is heading into a situation where you have to cooperate. It does not matter if you are a large company, you are still not big enough to be entirely by yourself, says Katrin Strandemar.
– For us, it is a challenge to get access to the right data. And how to validate if the results you have are correct. We must get help from those who can, and we have definitely received that, Anders Nyander of Alfa Laval says.
The three companies are engaged in fundamentally different activities and operate in completely different conditions. With FLIR's thermography and Ekkono's machine learning, Alfa Laval's heat exchanger is heading into the future as a self-learning heat exchanger. A success story for the industry whereby machines minimise leakage, increase efficiency and, in the long run, reduce the climate footprint. With expertise in different areas, it is possible to create new innovations together. Something that is needed now more than before.
These issues are covered at Underhållsmässan, an industry-wide forum where various innovations, technologies and experiences are shared between players from every link in the maintenance value chain. Underhållsmässan is the largest and fastest growing meeting place for maintenance in Europe and will take place at the Swedish Exhibition & Congress Centre, Gothenburg, on 15-18 March 2022.