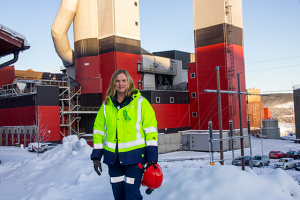 At LKAB, safety is high on the agenda. Long-term work on changing behaviours has led to a reduction in the number of serious accidents. 
 "It is important to pay continuous attention to the working environment," says Monika Sammelin, who is head of ore processing in Malmberget.
LKAB is Europe's largest producer of iron ore and is based in Norrland. Monika Sammelin works in Malmberget, where she and her colleagues put safety first on a daily basis.
"It is very important that we all feel safe in our workplace. A safe workplace is a good workplace. This is self-evident."
Focused on safety first
"To succeed with safety work, good ongoing maintenance, continuous review of the facilities and good routines and communication must all be in place, among other things," says Monika Sammelin.
"We know that about 80 percent of all our accidents are due to unsafe actions, that's to say, actions that you can influence and avoid yourself, such as the incorrect choice of tools and deliberate deviation from standard routines.
To reduce the number of accidents, about ten years ago, LKAB began to invest in a development program for safety work – Safety First.
"In the beginning, many physical factors were addressed. A lot of our facilities were rebuilt to be safer. We have moved on and are even more proactive today and are working a lot on education, safety rounds and risk identification to try to predict what might happen," Monika Sammelin says.
Everyone has their own responsibility
As part of the Safety First work, all meetings at LKAB are initiated with a brief safety review, including the identification of escape routes in the event of an incident, for instance.
"We talk about safety every day. It is very high on our agenda. It's an effective way to keep us up to date."
A functioning safety culture can mean many things. LKAB has invested in ensuring that all employees understand and act with great responsibility with regard to safety.
"It is one of the best tools for reducing risky behaviour. Everyone must realise that they have an important role to play in this work," says Monika Sammelin.
Safety representatives are a success factor
She cites safety representatives as a particularly important success factor in safety work. A total of around 1,200 people work at LKAB in Malmberget, 500 of them above ground, and a total of 70 of them are security representatives.
"All of our workplaces must have their own safety representatives. Their level of engagement is high, and they provide great views and advice. Safety representatives are important ears and eyes in the business. They are appreciated both in our own organisation and with entrepreneurs," says Monika Sammelin.
LKAB's safety work has created changes and improvements that have produced concrete results.
"Among other things, the number of accidents resulting in longer absences has decreased over the past ten years. The goal is to get down to zero accidents with absenteeism and it takes hard work and great commitment from everyone to get there."
Five steps to a safe working environment:
Workplace environment values. "It is important that we share the same views and values about how we work at LKAB."
Education/competence. "When the basics are in place, it is easier to do the right thing."
Communication. "It is good to communicate in various ways to get the message out."
Risk management. "We think first and then act. We apply the 30-second rule, that you stop and think for 30 seconds before doing a job."
Activities to improve the work environment. "It is important to have a long-term plan, with interim goals being followed up."
Security is one of the focus areas for Underhåll, the Maintenance Fair, which takes place on 10-13 March 2020 at the Swedish  Exhibition & Congress Centre, Gothenburg. During the Safety Officer days, Monika Sammelin and Lars Olausson, who is the main safety representative in Malmberget, will talk about LKAB's safety work. You can find more information about Underhåll, the Swedish Maintenance Fair and its programme here.
Get your free admission ticket here »
.