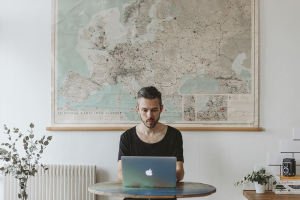 Digitalisation has no willpower of its own. That is why it is important to understand the interaction between people and new technology, says Tobias Ahlin, a designer, programmer, innovator and former design manager at Mojang, where he worked on the global hit, Minecraft.
How would you describe the digital transformation currently under way?
– Digital transformation has a huge impact on how we live, work, and think. In this respect it is clear and palpable. But at the same time it is so extensive and complex that it becomes difficult to analyse and predict in detail. We could liken it to understanding how a flag flutters in the wind. When lots of different forces and technologies push this flag simultaneously from different directions, it is difficult to understand exactly how it will be affected, and how it will move. But we're pretty sure we're in the middle of a storm.
What are these driving forces?
– We can divide them into five parts: how we collect, transport, analyse, control and experience data. Firstly, it is about collecting more and more data through small computers and sensors that are ubiquitous. We are also getting better at transporting data, for example between devices and the cloud. Through AI and machine learning we can then analyse the data. We also increasingly control things with data, such as machines or drones in industry. Finally, through AR and VR, we have completely new ways of experiencing and being part of the data. Many of these driving forces have the same technology in the background, and as batteries and processing power increasingly fall in price, this is helping to drive further development within all of them.
How should an industrial organisation respond to this rapid development?
– We must understand the interaction between people and new intelligence. This does not just mean that we must be good at embracing new opportunities and expertise. We also need to learn to understand when to abandon our old habits and ways of doing things and understand people's weaknesses in relation to machines and new technology. For example, AI is surprisingly good at working in areas that have clearly defined issues or processes. But machines are less good at defining such issues in advance. This is where we triumph as human beings. I believe that a lot of workplaces do not have to be at the forefront and invest in the very latest digital tools. Sometimes you can be most innovative with fairly old but proven technology if you spend more time on how to use it.
What does industry need to be better at?
– We have to get better at talking to machines and explain to them how to execute our expertise, what we today call programming. We will have to see programming more as a skill, rather than as a professional role. But at the same time, it's not just about telling machines what to do, but largely about analysing what the machines should do next. We do not get ready insights from the data we collect; we get a complex pile of data – a haystack. We have to be humble about the difficulties involved in analysing this data. Finding the little needle we are looking for in the haystack.
How does digitalisation affect us and society at large?
– Digitisation is an amplifier. I don't want to sound alarmist, I love technology, but new technology reinforces both the best and the worst in us. Our social development is accelerating and in many ways, it is becoming more unpredictable and volatile. Extreme behaviours and actions are being reinforced in society. At the same time, digitalisation is helping more people than ever to live safe and meaningful lives. And I think it has a fundamental role in helping us out of the climate crisis we are in.
Five digital trends:
Distributed expertise. "We are getting better and better at transporting our expertise between different points. It is as much about a social change (remote working) as a change in technology (VR and AR)."
Expertise shift. "Being able to talk to machines and control software, and to analyse and reason about quantitative data are competences and professional roles that will be increasingly required and in demand."
Digital pollution. "The first digital wave put a lot of emphasis on 'big data'. We are now seeing a counter trend that is striking back. We have an increased understanding of how digitalisation affects our privacy and society and how certain types of data simply become a destructive waste when it is collected."
AI and machine learning "The technology is actually relatively old, but it is still valuable to define it as a trend when we consider the way it is making huge breakthroughs in many areas. In the future, there will also be more of it in production and maintenance."
AR and VR. "This technology is also quite old, but now it is finally starting to mature. What is holding things up is our understanding – we have not learned how to handle it yet. The technology's most meaningful uses and unique applications still lie ahead of us."
Digitalization is one of the focus areas for Underhåll, the Maintenance Fair, which takes place on 10-13 March 2020 at the Swedish  Exhibition & Congress Centre, Gothenburg. Tobias Ahlin will participate as one of the speakers on Thursday, 12 March. He will then tell us more about the important interaction between people and the new technology. You can find more information about Underhåll, the Swedish Maintenance Fair and its programme here en.underhall.se