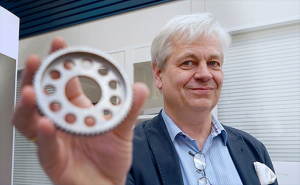 Additive manufacturing, whereby products are manufactured using 3D printers, is growing significantly. This is creating new opportunities for industry – not least from a maintenance perspective. The need for spare parts and inventory is reduced and repair times are shortened. So says Lars Nyborg, a professor at Chalmers University, who will depict this rapid development at Underhåll 2020.
For a long time, additive manufacturing was only seen as a way of producing prototypes based on three-dimensional computer images. No longer. Today, the method is used industrially, in more and more sectors.
3D technology means that a product can be built up from nothing. Thousands of thin layers are printed in a choice of materials. Worlds away from the traditional processing of a material by milling and turning.
Additive manufacturing (AM) will be a focus area at Underhåll, the Swedish Maintenance Fair, at the Swedish Exhibition and Congress Centre, Gothenburg, 10-13 March 2020.
Why? The answer is simple: if AM is used more and more in serial production, maintenance work is also fundamentally affected. Lars Nyborg points out the relationships:
– AM starts to get interesting when an entrepreneur asks questions like: Do I really need to keep lots of spare parts? Do I want to be able to shorten lead times and find solutions without costly downtime?
– It is possible to avoid the stockpiling of materials by using print-on-demand solutions. When the customer needs a component, it is manufactured there and then, instead of having lots of products on the shelves.
Lars Nyborg knows what he is talking about.
As professor of surface engineering at the Department of Industrial and Materials Science at Chalmers University in Gothenburg, he, together with Eduard Hryha (who heads the national competence centre CAM2) runs Sweden's largest research unit on metal-based additive manufacturing, with some 30 colleagues.
Moreover, additive manufacturing has become an important part of teaching at the University, with courses at both the Master's and the mechanical engineering undergraduate level.
Chalmers also coordinates a major European project on powder metallurgy and AM and works closely with RISE (Swedish Research Institutes) on additive manufacturing on several different projects and activities.
At Underhåll, Lars Nyborg will show the current status of developments. He cites several examples of companies and industries in Sweden where additive manufacturing is used successfully today:
– Sweden has a strong position within GE Additive/Arcam's newly started excellence centre, Digital Metal, which is a leader in the technology of metal binder jetting, and Sandvik, which invests heavily in the area, as well as GKN Aerospace.
– Other good examples are the Siemens AM workshop in Finspång, which manufactures components for its products and AMEXCI, a newly started initiative for industrialisation of AM. Sweden is also a leading manufacturer of metal powders used in AM.
Sweden therefore has several strong players, but it is important to maintain this position, according to Lars Nyborg, given everything that is happening around the world:
– A lot is happening in Europe, especially on the machine side. For example, General Electric is making a huge investment in industrial AM in Italy. The USA and China also have a strong position.
Within ten years, he believes that AM technology will emerge in sectors that we would find difficult to imagine today.
– It's all about finding the right solutions; they often become the most cost-effective when expensive materials and complicated components are involved.
– Especially when it comes to composite products where you normally have to join and weld. With AM you can produce them with a single piece.
The objections to additive manufacturing have often been about volumes: that the production of each individual product takes too long and is therefore too expensive.
But AM speeds have accelerated in recent years.
Lars Nyborg provides a sample calculation:
– Let's say that an AM machine can produce six products a week. Then imagine that you set up ten of these in a row. If you let these machines operate efficiently 200 days in a year … you get a significant production volume.
– If we are talking about an expensive product, you can quickly get a return on the investment. The potential is enormous.