The number of deaths in Swedish workplaces has fallen sharply in the past year. But the journey towards the zero vision has a long way to go.
–To achieve the vision, a new mindset is required for everyone who works in industry, says Björn Gustavsson, chief safety officer at the chemical giant Borealis in Stenungsund.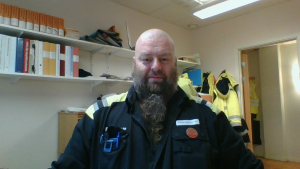 Safety issues are highly topical in industry. Not least because of the "zero vision" that Arbetsmiljöverket, the Swedish Work Environment Authority, launched last year, which says that no one should have to die as a result of their work.
Developments in recent years look undeniably hopeful: In 2018, 50 people died in workplace accidents in Sweden. In 2019, the death toll dropped to 36 and last year it dropped further, to 23,  the lowest figure in more than a decade.
The zero vision is based on the Government's new work environment strategy, which calls for concrete measures to prevent occupational accidents that lead to injury and death.
The vision is also a hot topic of discussion ahead of the Safety Officer Days at Underhåll, the Maintenance Fair, at the Swedish Exhibition & Congress Centre in Gothenburg in March next year.
For Björn Gustavsson, who works daily with these issues at Borealis, one of Europe's largest manufacturers of polyethylene and polypropylene, this is really nothing new:
–Stenungsund is a hub for the petrochemical industry and here we have always been highly aware of the risks, for example of fires and explosions. We have developed strategies and a high level of thought leadership on safety, he says.
The Borealis plant (then under another name) started in 1963 and Björn can therefore look back on almost 60 years of accident statistics.
–Fatalities and other serious accidents were significantly more common during the first decades. But the curve reveals a sharp decrease up until today.
In recent years, the petrochemical industry has had few serious accidents. A fatal accident occurred at Borealis four years ago, the only one in the 2000s.
But the statistics could have looked different: in May last year, a large fire broke out in a cracking plant. The material damage was extensive; the facility could not be reopened until January this year. But no one was injured.
–This in turn can be linked to our preventive work with well-functioning safety routines. Everyone knew what they were going to do, Björn states.
The fact that the accident risk for death and serious injuries has decreased is of course a big step forward, but Björn Gustavsson is still not satisfied:
–We still have a major problem, which can be linked to negligence or stress and thus to incorrect risk assessments. It comes down to not wearing the right protective equipment, because you think it wastes time or is too cumbersome.
–The result is often cutting and crushing injuries. A typical example is not wearing protective gloves when using a sledgehammer on a wrench. This often leads to injuries to the hands and feet. In 2020, Borealis had six occupational accidents that required medical attention. The worst was a broken collarbone.
–This was even an increase on the previous year, so we were really not getting to the zero vision. At the same time, it is so unnecessary, says Björn Gustavsson.
To get to the heart of the problem, one must go into depth, he believes:
–We need to create a new mindset. This is an issue I struggle with every day and I think it is equally important for all safety officers.
–It is about how the individual adheres to the rules for personal protection. Something to think about. To spend an extra two or five minutes on a sub-operation at work and come home safe and sound. This is a message we must help spread.
That discussion continues during the Safety Officer Days, held in connection with Underhåll 2022. The two conference days are organised in collaboration with Dagens Arbete, IF Metall and the Nordic Safety Association.
The focus is on personal protection and industrial safety.
–We see great potential in this investment, which we are now implementing for the third time, says Anna Jarnö, business manager for Underhåll.
–We have received a very good response from exhibitors who offer personal protective equipment and security solutions. And we know that it is much appreciated among the safety officers themselves, from all business sectors.
Underhåll is Northern Europe's largest and fastest growing meeting place covering all aspects of operational safety and maintenance. An industry-wide forum where technicians and decision makers right across the maintenance value chain can see the technology of the future and share experiences. The 2020 edition of Underhåll had to be cancelled due to the outbreak of the Corona pandemic in March. The event is therefore all the more long-awaited and we warmly invite you to Maintenance 2022, 15-18 March, with a focus on among other things smart maintenance, sustainability and industrial safety. More information at en.underhall.se